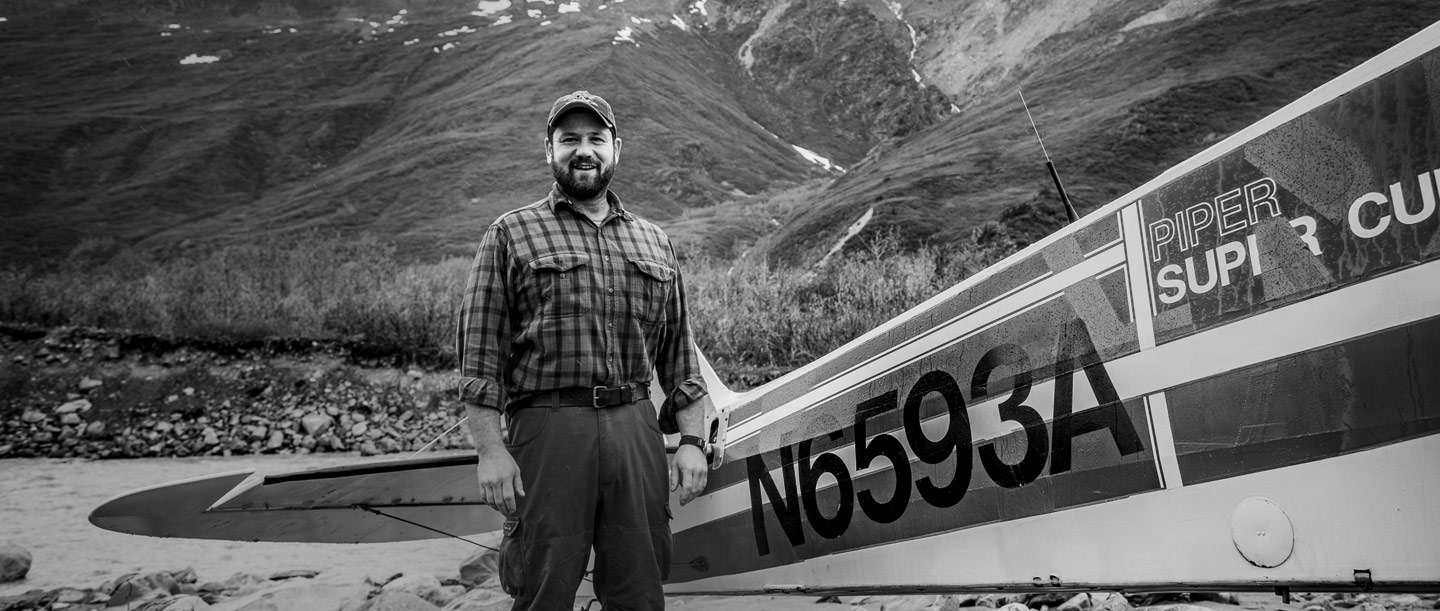 Pilot Explorer Adventurer
Zack Knaebel
Join the man above wild skies
A wilderness Adventurer & Bush Pilot
Zack Knaebel of Tok Air Service LLC, was born in Fairbanks Alaska. A third generation pilot, he started flying at age 11 and has been flying Bush Alaska ever since. Zack now lives in Tok, and from there he flies clients out to experience the vast Alaskan wilderness.
What drives us
Tok Air Service's aim is to make the wilds of Alaska's Mountain Kingdom accessible and affordable for everyone. Zack's flying skill and guiding experience provide clients with a winning combination that results in successful "once-in-a-lifetime" adventures.
How we do it
One of Zack's favorite past times is scouting out places in the mountains where no plane has ever landed, and setting down in his Super Cub. We invite you to come discover this untouched wilderness with us. Zack has 4 airplanes specially suited for whatever adventure you choose.
When
We're flying year round but we find the best seasons for back country skiing/splitboarding and ski camps is April, mountaineering April-June, and backpacking/rafting June-July.
Where
Tok Air Service is based out of Tok where we can easily access the Wrangell-St. Elias National Park, and Eastern Alaska Range. In spring we operate out of Valdez and Thompson Pass to provide access to amazing terrain.
Meet the fleet
Our aircraft specifically chosen to get the job done safe and efficently.
The Beast

Super Cub N82022

The 185 Ski-wagon

N714LS

The Pioneer

Super Cub N6593A
The Beast

N82022, the first Super Cub Zack purchased in 2001; is a 1978 Piper, completely modified specifically for the hard-core, "heavy lifting" bush flying that Tok Air Service has staked its' reputation on.

---

022 is one of the lightest "big wing" 180 HP Super Cub's flying commercial service in the world. Nick-named the "Beast", 022 is the go-to plane for getting a big pay-load out of a short, nasty place.

Explore the Wild with Friends

Zack's Dad, Jeff, bought N714LS brand new from the Cessna factory in 1983. Jeff used 4LS to haul supplies back and forth to the family's small "mom and pop" gold mine.

---

Eventually, Jeff sold 4LS. After Jeff passed away, Zack located the owner and was able to purchase 4LS back into the Knaebel flying family. In 2014, Zack flew 4LS up from Phoenix AZ, to it's home in Alaska. 4LS is one sexy, fun and fast plane to fly.

Really Explore the Wild

93A is a stock, 160 HP, "round-wing" Super Cub. Sporty and agile. 93A has been flying bush Alaska since it left the Piper factory in 1981.

---

With Zack at the controls, 93A has pioneered more Super Cub landing strips than most cubs in Alaska combined. If this aircraft could talk, it would tell the most incredible stories about being in the most remarkable places. 93A spends most its' time on skis accessing glaciers for skiing and snowboarding.